Decorating Easter Eggs with Hemp
Easter is coming! Here are the farm, our Easter morning usually starts by going outside and searching for wild greens to decorate the eggs. It's always refreshing to go to the woods and hunt for the perfect leaves. Kids love it and so do we! But it's when we get home, that the magic (mess) begins!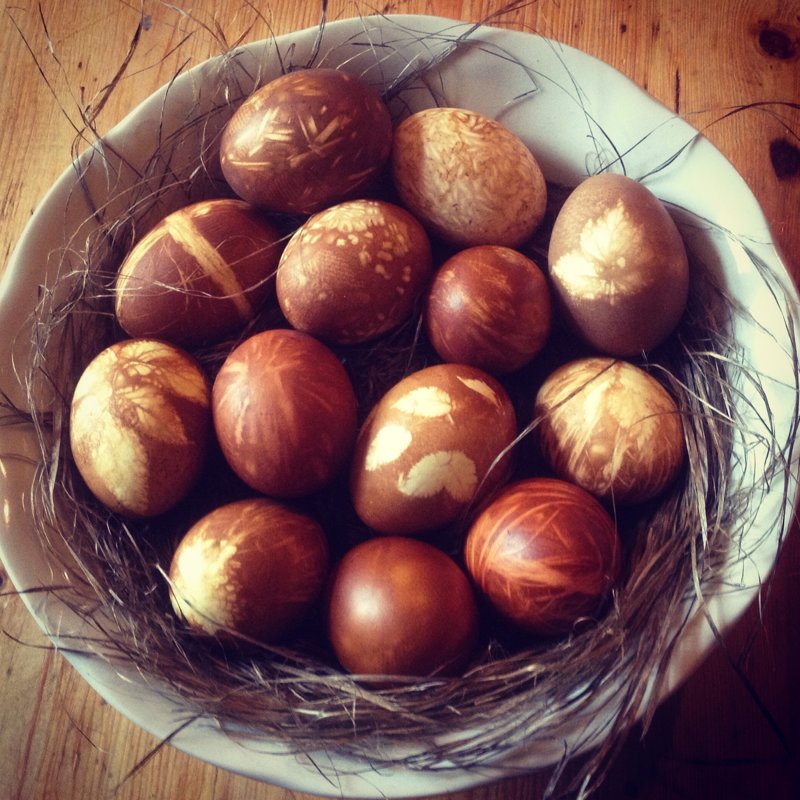 Last year, we made a couple of experiments. We used different dyeing techniques and also try out several materials. Our friends David from Cotton Island and Laura join us for Easter and together we used hemp for the first time to decorate the eggs. We learn a lot from messing around. The first thing we tried was to mix hemp flowers with the onion skins but we didn't get the color we wished for. Since we believe this process should be made with fresh hemp flowers and at the time we only had dried ones. We also used hemp fiber and hemp shives to the decorate the eggs. The effects were quite stunning!
If you would like to add a different material for decorating your Easter eggs, or just looking for some inspiration for a DIY project keep reading we made this post just for you!
What you will need:
Eggs
Onions
Wild greens, hemp fiber, hemp chives
Cloths
Strings

1. We get our eggs from our neighbor's farm. But if for you "eggs are a no-go", then there are other alternatives
2. We boil the onion skins to the point the water gets dark brown. We usually do it one day before Easter so it allows the color to set
3. Next, we prepare the cloths and strings (we use hemp fiber since is strong enough to hold the form)
4. Then we sort out hemp fibers and shives, flowers and wild greens we have picked previously. We place the materials on the egg creating different patterns. This is the moment where we let the imagination run wild!
5. We wrap the cloth and string around the decorated egg and finally, we boil the eggs with the onion skins for 5-7 minutes approximately. We cool them down and take off the cloth and all elements around the egg
6. And voilá, there we have our eggs decorated using various materials including hemp fibers and shives.
We hope this year we will come up with new ideas for our Easter eggs. Do you have any suggestions? We would love to hear from you! Feel free to share your adventures making Easter Eggs!
1 comment

- Decorating Easter Eggs with Hemp

Ineta - April 5, 2018 at 9:10 am

Labdien.
Prieks par kaņepēm.
Bet..
Vēlētos mājas lapu arī latviešu valodā.
Ineta
Leave a reply
0