Recipe: Hemp Protein Pancakes
Autumn is here and on these rainy and cold days, we really like to snuggle our tummies with something warm, healthy and yummy! From the seeds of the hemp, we can obtain a very healthy supplement rich in nutrients, especially fiber -
Hemp Protein Powder
- which has high digestibility that makes the work of our organism much easier to take advantage of nutrients. In order to extract the main compounds responsible for these active principles, hemp seeds must be submitted to the following processes:
Cold pressure: basically it is a procedure of mechanic extraction to obtain the nutrients present in the composition of Hemp;
Crushing: A step that will transform the compound obtained by cold pressing into a very homogeneous and protein-rich powder;
Separation of waste: and finally, the last process is in charge of eliminating the particles that were not very well refined by the previous steps.
Of course, there may be variations in these procedures, as the goal may be to preserve different active principles. Nevertheless, essentially, the processes can be separated this way.
To understand why hemp protein powder is a great food to add to your diet, nothing better than knowing that hemp protein powder:
Presents in its composition omega 3 and, therefore, help you to take advantage of the benefits offered by this nutrient;
Due to the richness of proteins, it is an excellent source to supplement the diet;
Vegan and vegetarian diets can be greatly benefited by the use of hemp protein because of their richness;
Fatty acids are very important for the maintenance of the skin. Therefore, nothing better than making use of Hemp protein powder;
The hemp seed is considered an excellent source for obtaining vegetable protein.
Here at home, we use hemp protein in many of our favorite dishes. One of them is the perfect Autumn recipe - Hemp protein powder pancakes. So, we'll share this super easy to make recipe!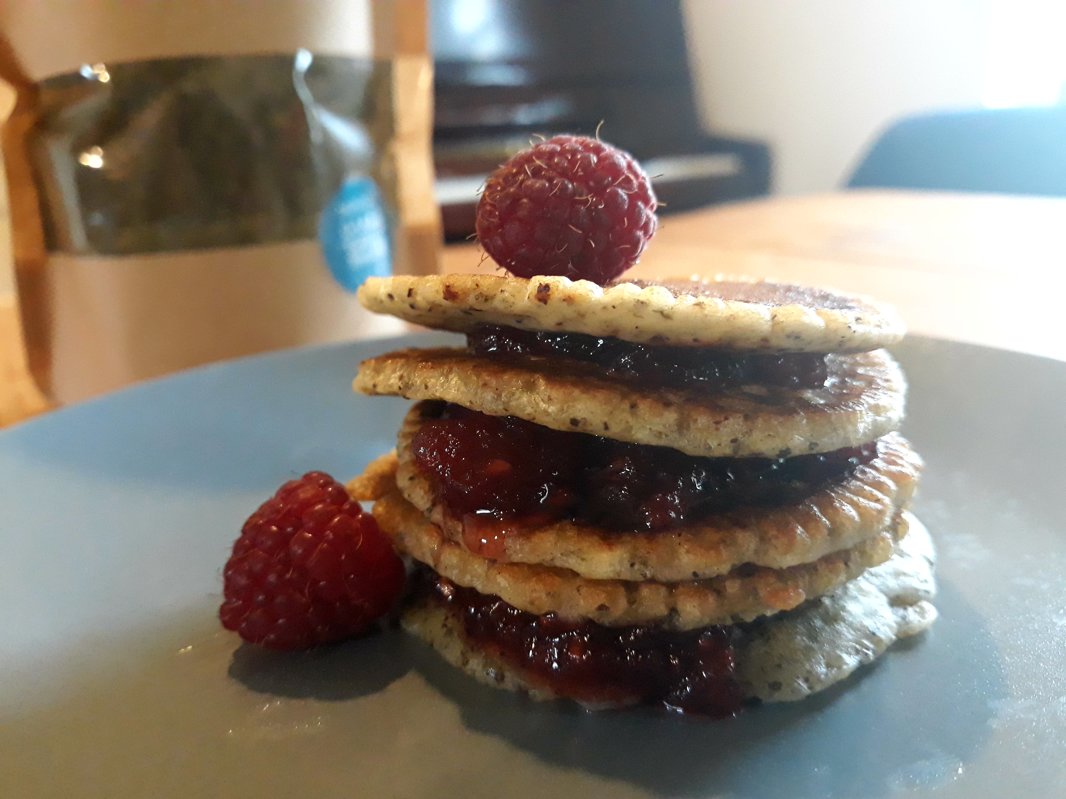 Ingredients:
2 cup of hemp milk ( we used hemp milk but you can use whatever you like: cow milk, almond milk, coconut milk

1 cup of flour

1 cup of hemp protein powder

1 teaspoon of baking powder

Preparation:
Mix all the ingredients until a homogeneous consistency is obtained. Place a portion of the dough in a circular shape in a pre-heated, non-stick frying pan. Cover with a lid. When the dough begins to make "bubbles" turn and leave a few seconds, and repeat until the dough looks ready. These amounts give for approximately 4-5 medium-sized pancakes.
We stuffed our pancakes with a homemade raspberry and apple compote made by ourselves and a couple of hand-picked raspberries from our garden.

We hope you try and enjoy it!
No comments
Leave a reply
0