We made it: Hemp paper that can be printed on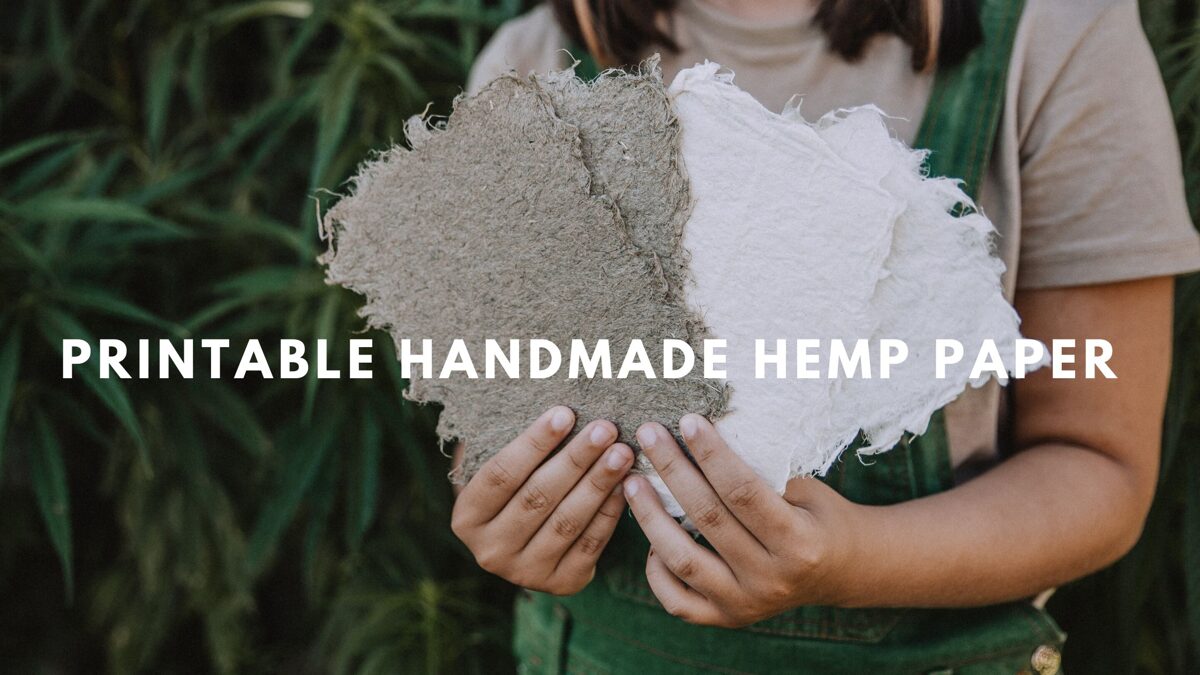 We love to experiment with hemp paper. Since the moment we learned how to make it, we've been developing new techniques and now we have finally made a hemp paper that can be printed on. But before jumping into that, here is a bit more information about hemp paper.
---
Although almost all paper produced in the world comes from trees, historically, hemp has also been used as a raw material for its manufacture. One of the main advantages of hemp paper over wood is that its processing is more efficient and sustainable.
Hemp paper is usually made from cellulose obtained from hemp fibers. Because they are long and strong, hemp fibers are a great source for making paper products.
Hemp paper has existed since ancient times in China. The first identified sample comes from the early Western Han dynasty, around 200-150 BC. Since then, hemp has been used to make paper all over the world.
Advantages of hemp paper
It can help fight the deforestation crisis
Hemp is a much more efficient source of paper than wood, which means its sustainable cultivation could help address the global deforestation crisis. The cutting of trees causes direct and indirect threats to the health of the planet, affecting the climate around the world and contributing to the accumulation of carbon and the resulting global warming. Deforestation also results in damage to the environment, loss of biodiversity, and desertification.
Half an acre of hemp can produce the same amount of paper as 1.5 to 4 hectares of trees, in a 20-year cycle. While trees take between 20 and 80 years to be ready for paper production, the hemp stem takes just 4 months to harvest from sowing.
Compared to plain paper, hemp paper is more durable due to its long fibers and higher cellulose concentration.
Papers derived from trees have low acidity and lignin content, becoming yellowish and brittle. Hemp paper does not yellow, crack, or deteriorate over time. In fact, hemp paper can last hundreds of years longer than regular paper.
Can be recycled multiple times
With its high durability and higher yield, hemp paper can be recycled between 7 and 8 times, reducing the impact on the environment. In comparison, paper made from wood can only be recycled a maximum of 3 times.
Turning trees into paper requires a lot of water. Today's pulp and paper industry uses more water to produce a ton of final product than any other industry!

Hemp plants require significantly less water than trees, which allows their cultivation to help reduce the environmental impact on the planet.

Really impressive, right? We think so too! And this is why we've been making our own hemp paper for more than 5 years now. Fast forwarding to the present day, we're glad to have been experimenting all of these years with hemp paper and now have found a way to print on it.
The truth is, we get very often asked about how to print in our handmade paper. We've felt that this should be the next step, being able to print on our hemp paper. We see many clients using calligraphy with the paper we make, but many want to print on it in an easy and fast way, particularly those interested in making many copies of the same design, for wedding invitations or business cards.
We found a way to make hemp paper that can be printed on and we're happy to share with you the process in our new post on Patreon. There you can get to know how we make it, and also we share some tips about the printing process that can be a little of a hassle if you don't take into consideration some details.
Read here how we make printable hemp paper
If you're still not part of our Patreon community consider supporting us and receive exclusive access to everything we do.
No comments
Leave a reply