Discover the Wonder of Hemp: Unforgettable Tours at Our Farm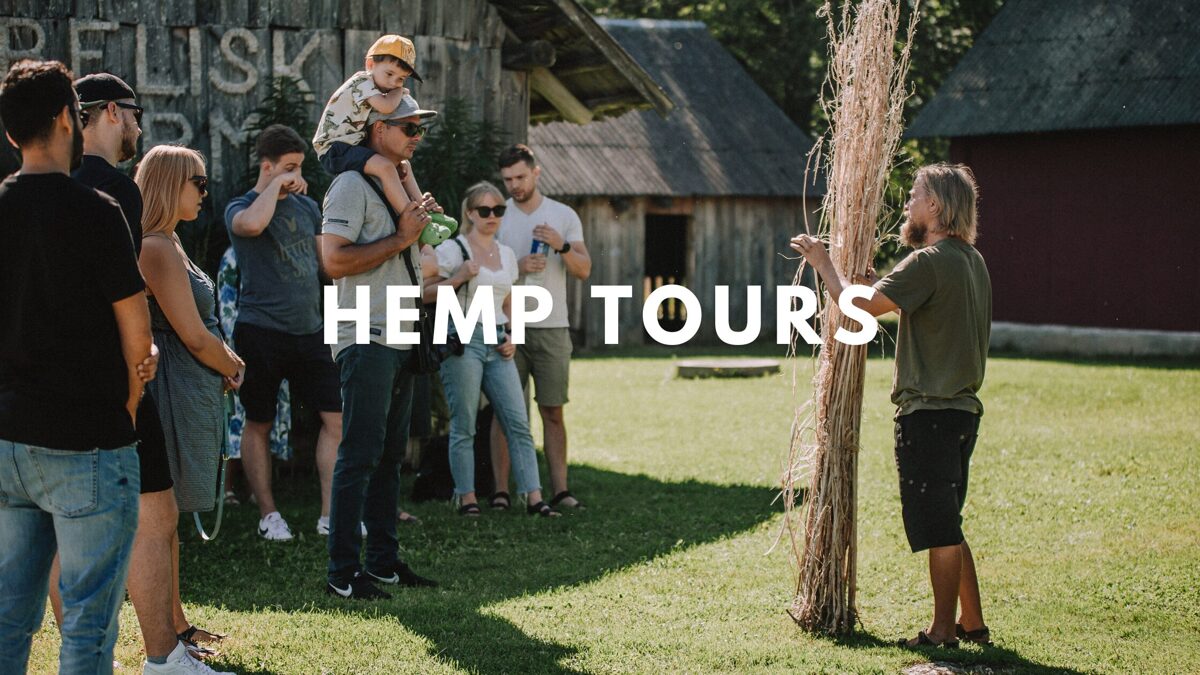 Nestled in the heart of Latgale, our hemp farm is a place where education, exploration, and delightful experiences await! We're excited to unveil our unique hemp tours that go beyond the farm, offering visitors a comprehensive journey through the world of hemp. In this blog post, we invite you to join us as we explore the highlights of our hemp tours, including visits to our hemp school, hemp museum, hemp shop, and the incredible opportunity to taste our exquisite range of hemp products. Get ready for an immersive and enlightening adventure that will leave you inspired and craving for more!
---
The Hemp School: Ignite Your Curiosity
Our Hemp School is a hub of knowledge, designed to enlighten visitors about the incredible potential of hemp. Step into a world of discovery as Andris guide you through interactive sessions, sharing insights about hemp's history, its diverse applications, and the latest advancements in hemp research. Expand your understanding of this versatile plant and uncover the countless benefits it offers for various industries.
The Hemp Museum: Immerse in Hemp's Legacy
Journey through time as you explore our hemp museum, a treasure trove of hemp artifacts and exhibits that chronicle the rich history of this remarkable plant. From the past to modern innovations, discover how hemp has played a significant role in human culture, economy, and sustainability. Engage with interactive displays, learn about traditional hemp techniques, and gain a deeper appreciation for the and heritage of hemp.
Hemp Product Tastings: Delight in Hemp's Flavors
Prepare your taste buds for a memorable experience as you savor the delightful flavors of our hemp product tastings. We have crafted a range of culinary delights, infused with the goodness of hemp. From savory treats to decadent desserts and invigorating beverages, each bite will tantalize your palate and showcase the diverse culinary possibilities of hemp.
The Hemp Shop: Discover Hemp's Possibilities
Indulge your senses in our hemp shop, where you'll find a wide array of our hemp products. Browse through a carefully curated of delicious and healthy hemp products. Take home a piece of the hemp experience.
A Complete Hemp Journey:
By joining our hemp tour, you'll embark on a holistic journey that combines education, exploration, and sensory delights. From the hemp school's enlightening sessions to the immersive experience of the hemp museum and the delightful discoveries in our hemp shop, each stop will contribute to a deepened understanding of hemp's potential and its role in building a sustainable future. Whether you're a hemp enthusiast or simply curious about this incredible plant, our guided tours are an opportunity you won't want to miss!
Exclusive Offer for New Patrons:
And here's an exciting part - we're reserving FREE tour spaces exclusively for our valued patrons. So, even if you haven't joined our Patreon community yet, this is your chance to unlock a captivating adventure. Joining our has never been more enticing. By becoming a patron, you'll not only gain access to our captivating hemp tours but also unlock a host of exclusive benefits, including early access to new products, special discounts, and the opportunity to connect with like-minded individuals who share your passion for hemp.
Next dates for FREE Patreon tours:
>> 12/07/2023, 16:00
>> 20/07/2023, 11:00
Don't miss out on this exclusive opportunity to embark on a captivating hemp adventure. Secure your spot today and prepare for an unforgettable experience that will leave you inspired, informed, and connected to the extraordinary world of hemp.
Unlock the magic of hemp with us - reserve your free tour space and become a patron today!
Embark on an extraordinary hemp adventure with our immersive tours that extend beyond the farm. Explore our hemp school to expand your knowledge, step into the hemp museum to witness hemp's legacy, and indulge in the delights of our hemp shop. Complete your journey with the unforgettable experience of tasting our hemp products. Book your tour today and join us on an enlightening and sensory-filled exploration of the incredible world of hemp. Get ready to be inspired and captivated by the endless possibilities of this extraordinary plant!

No comments
Leave a reply